Archived Exhibition
Laguna Summer
Memories of free-time when the journey was the destination and living was eternal.
"Jeff has produced a fun and whimsical new series of work continuing in the photographic multiple-exposure style that he pioneered during the pandemic lockdown of 2020. The work is more than light-hearted whimsy, however, touching a theme that LeFever returns to frequently: ways in which we recall information as memories."
~Jack Fearing, Executive Creative Director, Moss Warner Communications
This is my first online exhibition of 2022; variations on a theme, inspired by a 1949 car advertisement I purchased from a vintage store.
Laguna Summer Limited edition prints are available for purchase HERE.
Signed & numbered limited edition Laguna Summer prints are available at lefeverART.com
Halftone Lockdown series limited editions are available too.
When you acquire unframed signed prints and they are shipped to your door in a tube ready for your local framer to custom frame.
If turnkey solutions make you smile, then this is for you. Select from several simple framing options for a beautiful ready-to-hang artwork shipped to your door. Framed prints come mounted on acid-free Gatorboard with acid-free matting. Museum-grade acrylic is available as an upgrade.
Consider opting in to my newsletter HERE and be notified when new prints are introduced.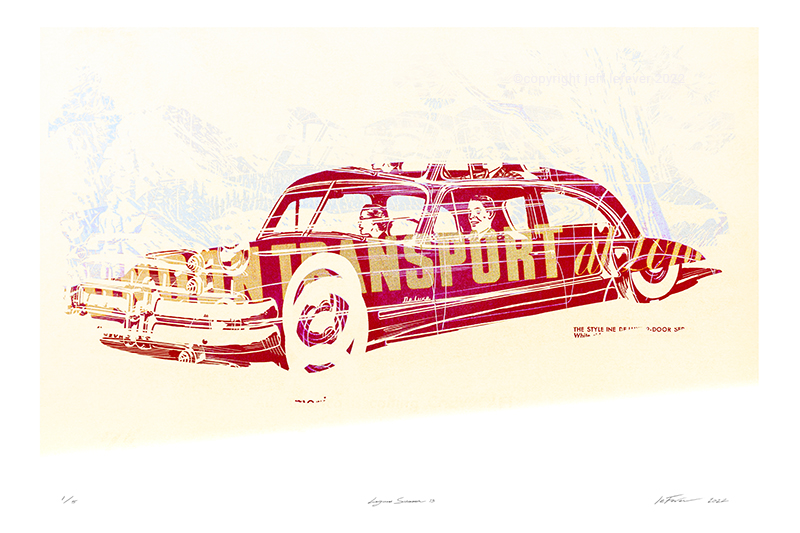 ---
Previous Exhibitions
revisit past online exhibitions