My Favorite Painting in Aria, Las Vegas–And A Cup Of Joe.
Julian Schnabel's Untitled (Zeus Duende) painting surprised and delighted me the first time I found it hanging in the most unexpected location on the second floor between the Aria upstairs restaurants and convention rooms.
It is a sizeable gestural neo-expressionist work of art created in 1992. The thick impasto white, yellow ochre, purple, and black oil paint are muscled across the dark stained tarp and given contextual personality with the name "zeus" written in white. Zeus is written center right of an amorphous shape that could be a hand, a teapot, or an expressionist gesture of the Greek deity for which the painting is named.
Julian Schanbel's painting, Untitled (Zeus Duende) behind a very reflective plexiglass at Aria, Las Vegas.
Curious to me that the white blobby paint structure above the vesselish purple-ochre gestures reminds me of a head in Picasso's Guernica. Coincidence? My projection? A tribute to Picasso, the Spaniard who embodies duende? My projection, my assumption? Possibly, but who cares—it's Schnabel, after all.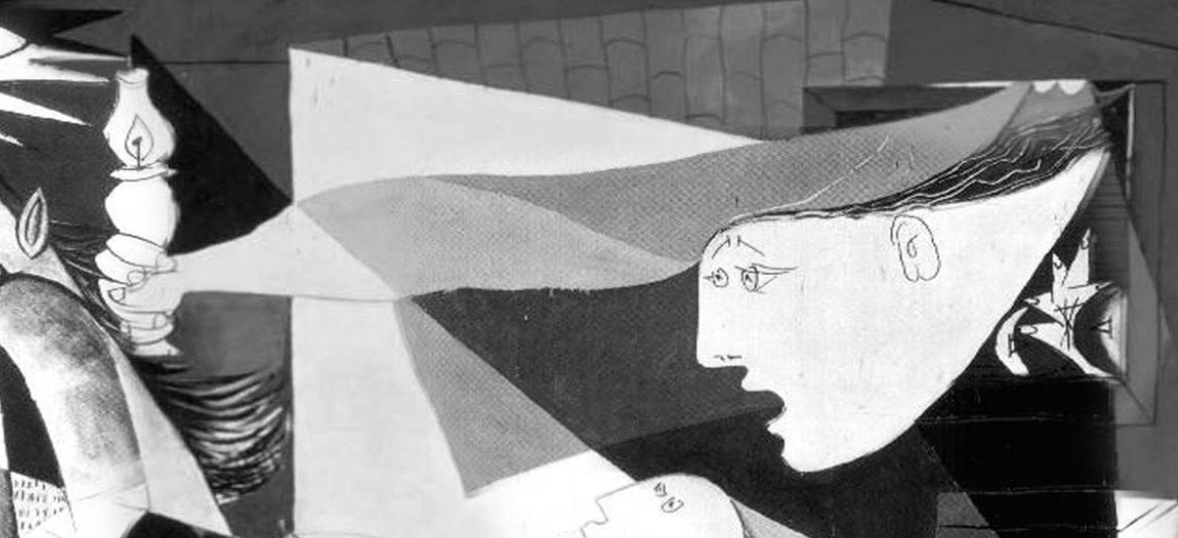 Why do I like it so much? Why is this painting by Julian Schnabel my favorite artwork at Aria despite being quietly hung as if ignored on the upper floor across from the closed theater area and next to a Starbucks, where most people walk right past it?
I am drawn to the way the paint is applied in that Neo-expressionist impasto Schnabel style that evokes a sense of rough movement and force. The painting itself is a massive 12 x 22 feet of artist bravado. The paint application has the poetics of awkward youth – nothing refined here, pure primal, ipso-facto in-your-face-ism. It isn't pretty. But it is attractive to me in its sheer force of unapologetic creation. It speaks of the freedom with which Julian paints.
This painting is undefined enough in its expression to entertain one's imagination. Is this the triumphant Zeus spearing some spastic sea monster? Is that zeus (with a little z) himself as a teapot or some vessel of his power? Or is the artwork's muscle and scale enough to suggest the presence of the mythological god (with a small g)? We are not given any clues but a single word on the painting. It is also from a series that includes the word duende—that intangible Spanish word for the creative spirit. Hirsch wrote a book about duende, a must-read for any creative. And duende is found at scale, as if the creative energy of Zeus is displayed as a Schnabelian soul dance.
Julian's freedom impresses me—his reactionary experimentation in the moment, his ability to imbue his works with a sense of energy and raw vitality almost carelessly but with balance. The personal abandon in his paint application and art sense—that "I don't give-a-shit" BIG and BOLD attitude I feel in his artworks, has always made me a bit envious. I feel creation's process and long to afford such abandon. This is what I appreciate about this painting—that it isn't me is what draws me to it.
Overall, Untitled (Zeus Duende) is a powerful and dynamic work of art that captures the viewer's attention and imagination. I visit it every time I am at the Aria. Go see it next time you are there, grab a coffee, and let Schnabel's zeus soak in.
Here is a link to this work and others in the Zeus and Duende series: https://www.julianschnabel.com/paintings/tarp-paintings-items/untitled-mi-vida-es-una-cumbre-de-menitras
And a GREAT book on the idea of Duende: The Demon and the Angel: Searching for the Source of Artistic Inspiration (Edward Hirsch ) on Amazon