Rauschenberg Surprise at the Bellagio!
Robert Rauschenberg (1925-2008) has significantly influenced contemporary art through his innovative approach to art-making, unconventional materials, and rejection of traditional artistic boundaries. His use of found objects, collages, and experimental techniques paved the way for future artists to explore new forms of creative expression.
Quick history: Rauschenberg gained fame in the 1950s and 60s as part of the Neo-Dada and Pop Art movements.
By appropriating images from the media and incorporating them into his works, challenging the traditional boundaries between art and everyday life, Rauschenberg, significantly influenced the post World War II art world.
Marcel Duchamp was an influence and friend of Robert's, and Duchamp's"ready-made" was a natural lead into the Rauschenberg "found object," which reflects neo-dada. Also the use by Braque and Picasso during "Synthetic Cubism" of collaging newspaper and printed materials in their paintings could very well have played an influence or at least began a leaning to the direction of pop and use of the common before Rauschenberg's collage style really brought home the use of popular media. Regardless of influences and doors of culture, Rauschenberg's use of the common profoundly impacted contemporary art, inspiring other artists to incorporate everyday objects and media images into their work.
I can't say I was influenced directly or intentionally by Rauschenberg; however, my latest work carries a slight flavor of influence that also pulls from popular printed material sources, as did Rauschenberg, playing with context through juxtaposition. I likely landed on my current photographic art style because of cultural saturation and Robert's juggernaut creativity which opened so many artistic paths. He was a master of this, bravely experimenting. And he led the way for this busy layered art style as if a synthesis of all things in a moment everywhere could be known: a picture of elevated awareness as if being hyper-conscious.
I wasn't initially impressed with Robert Rauschenberg's work – it was beyond me. It wasn't until I saw his retrospective show in New York in 1997: that was spectacular, and his genius was apparent at scale and over time.
Mark Rothko believed in the importance of engaging with an artist's entire body of work. Rothko thought that art was a means of expressing deep, complex emotions and ideas and that viewing a single artwork was not enough to fully understand an artist's vision. That is what seeing the Rauschenberg retrospective was for me; now, that particular retrospective show catalog is a treasure of mine and I have great respect for Robert Rauschenberg's accomplishments.
Robert Rauschenberg at Bellagio front desk, Las Vegas.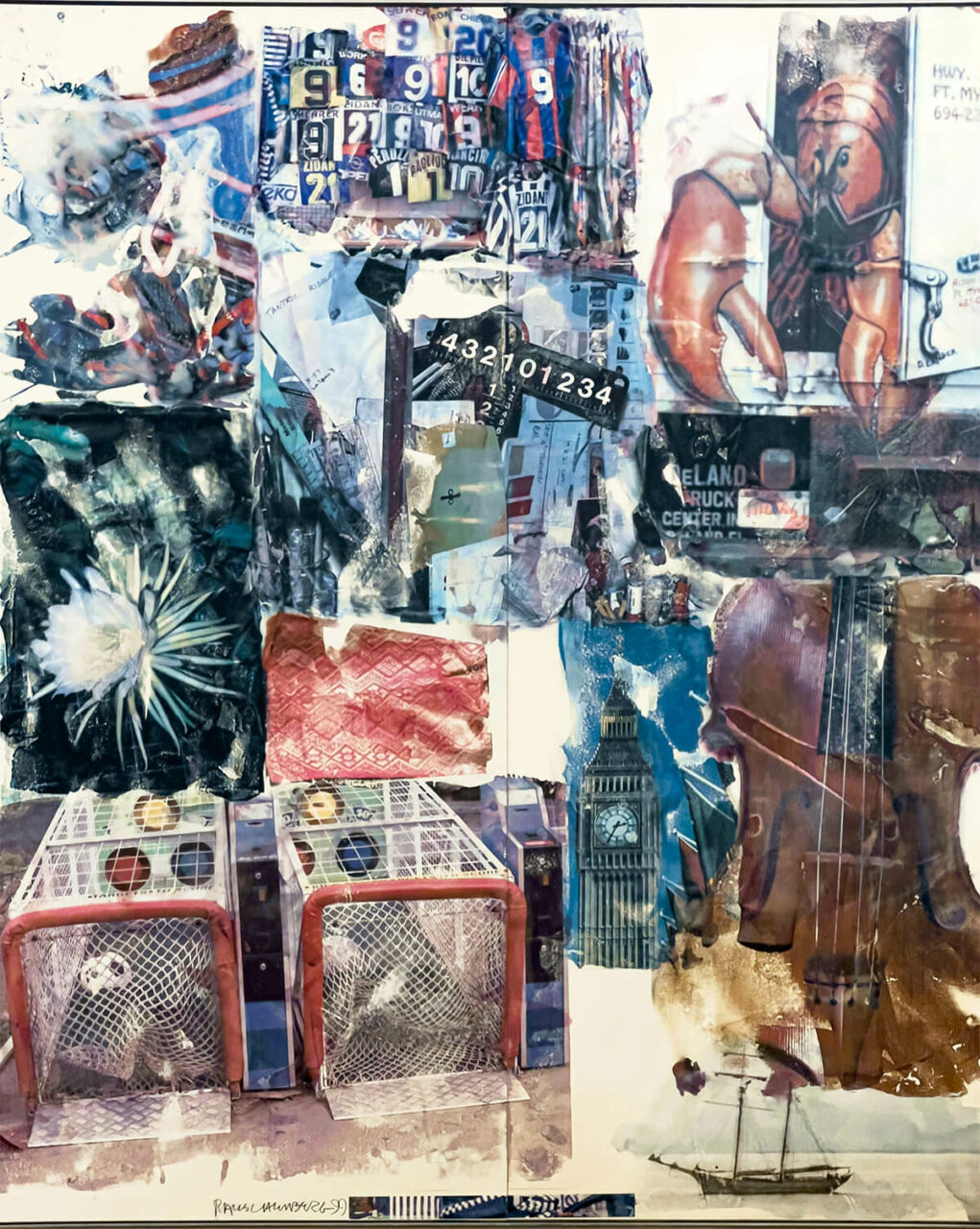 And with all that said, unbeknownst to many, two 1999 Rauschenbergs are hanging at the Bellagio. That's right, there is more at the Bellagio than the Chihullys that I previously highlighted or their famous gardens. I have more to speak about regarding the Bellagio, but for now, let me just point to where you will find the Rauschenberg artworks. One is sitting in plain sight and missed even by the staff (hard to believe, but I had to point out the painting to a few working at the front check-in and info desk). And that is where you will find the first Rauschenberg – at the right side of the front check-in desk just after you walk under the Chihuly glass fiori-covered lobby ceiling!
The other artwork hangs behind a very reflective and protective thick plexiglass at the end of a long hall that you use to get to the pool and just past the Bellagio Art Gallery.
Check them out next time you are at the Bellagio for a stay, play, meal, show, or the art gallery (or all the above).
Robert Rauschenberg Artwork #2 at the Bellagio in the hallway near the Art Gallery